As you know, the upcoming World Cup will be the first to be held in Eastern Europe and in two parts of the world at the same time – Europe and Asia. The matches will be played in 12 venues located in 11 Russian cities: Moscow, Saint-Petersburg, Kaliningrad, Volgograd, Kazan, Nizhniy Novgorod, Samara, Saransk, Rostov-on-Don, Sochi and Yekaterinburg. 32 national teams will take part in the tournament at the final stage.
In February, our partners from the British FIFA TV started covering Russian news about preparation for the World Cup. Lingvista keeps track of events, just as usual. Together with FIFA Futbol Mundial, a football-related magazine show, we met Soviet and Russian football stars, discussed future plans with Alexei Sorokin, the chief of Russia's 2018 World Cup organizing committee, and interviewed Vitaly Mutko, Minister of Sport of the Russian Federation.
Assisted by Lingvista, the British reporters spent a fruitful week in Russia. Now we are glad to present a video dedicated to the start of the 2017 FIFA Confederations Cup countdown which is supposed to be the first in the series.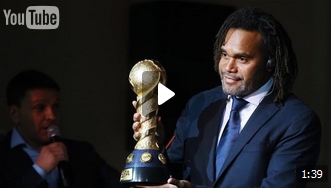 To be continued!