Your fast growing business needs more space and new customers? Then, most probably, you have already taken a look at the Russian market and recognized the wide variety of opportunities it offers.
If you're going to enter the Russian market, business trips throughout the country will become a significant part of your professional activity. Lingvista will become your reliable partner for all-round support here in Russia and CIS countries providing the following services:
• Interpretation (consecutive or simultaneous) during business meetings, exhibitions, conferences, etc.
• Translation of documents, from marketing materials to legal papers and technical documentation
• Organizational support for trade shows and exhibitions
• Exciting tours around the city
• Organization of transfers between and within cities, as well as international transfers
• Booking of air and railway tickets, hotel rooms, etc.
You're welcome to read more about our services below or contact us for a quote using the request form.
Interpretation is one of the key services of Lingvista.
Interpretation is the only way to understand each other for people speaking different languages. An interpreter is your assistant and partner during meetings, negotiations and business trips, who conveys the meaning of your words, guides you through the sophisticated foreign culture and helps to reach business goals. Lingvista offers interpretation provided by skilled professionals. Whether you work in the machinery field, deal with the oil and gas industry or promote a new mobile application, we'll select an interpreter whose professional experience corresponds to your needs.
You have the opportunity to test the selected interpreter before your business meetings start. If needed, we will provide a substitute for the specialist.

We offer not only experienced interpreters in different Russian cities for your business trips, but also related services, such as transfers within and between cities, international transfers, booking of air and railway tickets and hotels.
Today, Lingvista is successfully implementing interpretation projects in more than 40 cities of Russia and CIS countries:

Moscow, Saint Petersburg, Tomsk, Novosibirsk, Kemerovo, Barnaul, Novokuznetsk, Irkutsk, Krasnoyarsk, Surgut, Nizhnevartovsk, Nefteyugansk, Yakutsk, Khabarovsk, Blagoveshchensk, Omsk, Tyumen, Tobolsk, Yekaterinburg, Saratov, Kurgan, Chelyabinsk, Ufa, Perm, Orenburg, Samara, Kazan, Cheboksary, Nizhniy Novgorod, Dzerzhinsk, Tula, Voronezh, Penza, Ryazan, Rostov-on-Don, Krasnodar, Pyatigorsk, Volgograd, Yerevan, Minsk, Tashkent, Almaty, Astana and Istanbul.

If the city you are interested in is not in the list, just let us know and we will select an appropriate interpreter there. To get a quote for your Russian project, click here.

The process of interpretation projects organization is vividly described below: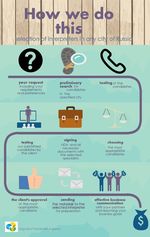 Besides, we specialize in the translation of various documents that usually guide international cooperation. You need to find a common language with your foreign partners to exchange emails and negotiate business-related points. We provide our clients with high-quality translations of commercial correspondence, contracts, manuals, promo hand-outs, website localization, subtitling and voiceover of promo videos and other related services. You can find some examples of our translation projects

here

.
Are you going to present your products or services at an exhibition or trade show in Russia? We are able to organize your participation in such events, help you to find long-term local partners and select an appropriate interpreter for the presentation of your goods or services. Moreover, we can translate presentation materials and provide technical support (simultaneous interpretation booths, earphones, audioguide systems, etc.) for your event.
To discover business opportunities and understand the needs of your future customers in a new territory, it's important to learn the country's history and culture. If there's a chance to include a few free hours into your tight schedule, don't hesitate to dedicate them to the foreign city you're working in. We're here to offer you exciting city tours, that will let you learn more about the place and people you work with.

Click here

to get additional information.




Feel free to tell us

about your plans in Russia, and we'll surely find the most suitable solution for you.