Interpretation is one of the key specializations of Lingvista. Considering the global changes of 2020, we do our best to explore remote work opportunities.
Video Remote Interpretation will help you stay in touch with your foreign partners, even with the borders closed.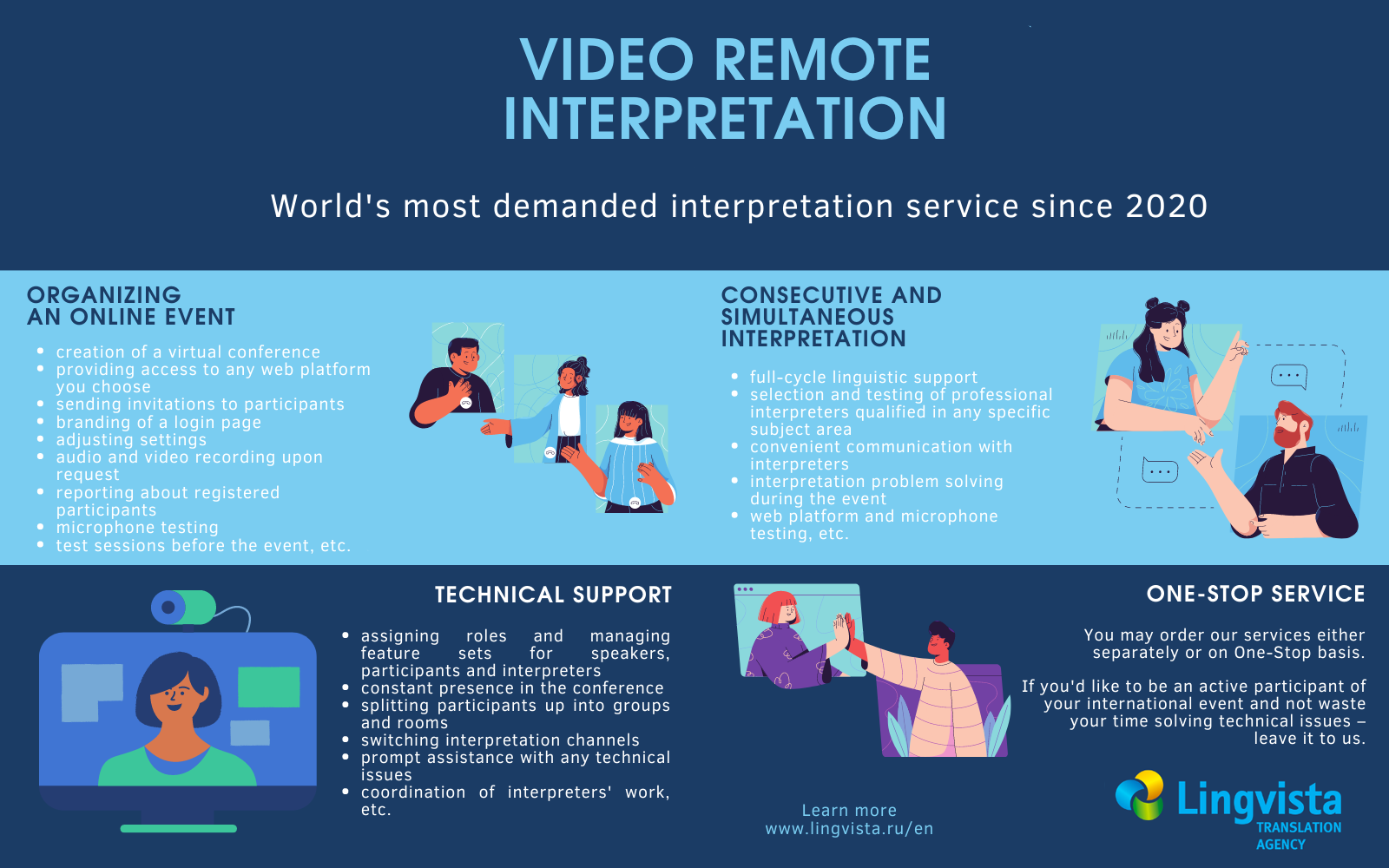 Online interpretation for B2B meetings and private conversations
Sometimes talking face to face is much more effective than exchanging business emails. If you feel that too, you can call your foreign partner via Zoom, Skype, MS Teams, or any other online platform, while our interpreters will help you break the language barrier.


Full-cycle organization of any online event
We organize events on Zoom or any other platform. We manage virtual conferences, help in solving technical issues, coordinate interpreters' work, and deliver reports afterward. Everything you need to do: provide us with the necessary information beforehand, and then just take part in the event with the interpretation option set and managed.

In this case, you send us info about the upcoming event and the list of speakers and participants. That's all. We will do the rest on our own by solving every task, from sending invitations and the log-in page branding, to consecutive or simultaneous interpretation in any language pair you choose.


Technical support and interpretation only
Simultaneous interpretation is a complex process, both mentally and technically. Linguists approach their mission with all the focus, and our moderator bears responsibility for the technical part by managing feature sets for speakers, listeners, and interpreters; switching channels on time; helping solve any issue, and keeping in touch with all the participants.

In this case, you provide us with credentials to access the platform you've chosen and assign us the moderator's role. We manage the conference, ensure technical assistance, and organize interpretation.


Remote Interpretation (Consecutive or Simultaneous)
After all the details have been confirmed, we share interpreters' contact data with you, and they will be present at your event on the specified day and time.



In this case, we do not provide web conference organization and technical support.

If you didn't have any experience in arranging online events before, we highly recommend requesting a moderator's assistance or full-cycle organization under our credentials.
On our website, you will find the list of the VRI projects we recently completed, as well as approximate prices for this service.
It may happen, that your event will be held offline. You can still count on us: we have been providing on-site interpretation for more than 10 years in a row.